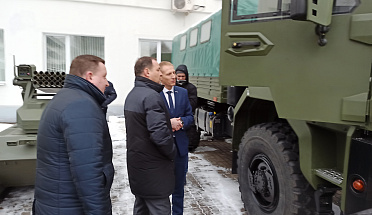 02.02.2021
At the exhibition held on January 29, 2021 as part of the meeting of the final board of the State Committee for Military Industry, Minsk Wheel Tractor Plant OJSC presented a brand-new product of 2021: MZKT-550130 tactical vehicle with right-hand steering wheel arrangement.  
Minsk Wheel Tractor Plant OJSC received inquiries from foreign customers about the possibility of supplying the MZKT-500200 vehicle with right-hand drive numerous times. Each foreign customer demanded a number of design features that MZKT-500200 vehicle did not provide in standard version. In this regard and in order to expand the range of manufactured equipment, the company management decided to create a vehicle of MZKT-500200 type with right-hand steering wheel arrangement. The vehicle was designated MZKT-550130.
MZKT-550130 vehicle is intended for transportation of personnel and various cargo. The vehicle has two axles, 4x4 wheel arrangement, front-wheel steering, two-seater cab located above the power train, a platform with canopy and drop backboard.
The main differences between MZKT-550130 vehicle and the mass-produced MZKT-500200 vehicle, the following can be distinguished:
- right-hand steering wheel arrangement,
- carrying capacity increased up to 5000 kg (for MZKT-500200 vehicle - 3000 kg),
- engine and gearbox are imported,
- Euro-5 engine ecological class (MZKT-500200 - Euro-3),
- fixed winch with a traction force increased up to 7 tons (on MZKT-500200 - 4 tons),
- air conditioner.
Due to the increase in vehicle carrying capacity, reinforced suspension springs and 14.00R20 tires are used, and the frame is reinforced. In addition, to ensure sufficient cruising endurance, the vehicle has 2 fuel tanks, each having a capacity of 190 l. (for MZKT-500200 - 2 tanks, 110 l. each).
Power train of the vehicle consists of 220-hp WP4.6NQ220E50 diesel engine with maximum torque of up to 800 Nm and 6-speed Fast Gear 6DSX95T gearbox.
Hook-and-loop towing hitch allows the vehicle to tow a trailer weighing up to 8 tons.
MZKT-550130 platform is equipped with frame racks, viewing windows, ventilation valves and folding benches along the sides.