The 10th International Exhibition MILEX-2021 has come to the end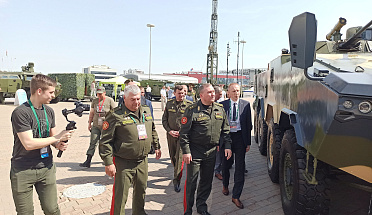 01.07.2021
From June 23 to June 26, 150 companies from Belarus, Russia, China, Turkey and Uzbekistan presented their advanced developments and brand-new products at "Minsk-Arena" exhibition site, the largest in the country. In four days, MILEX-2021 was visited by important government delegations, heads of military and industrial-and-defense departments, representatives of expert and business community of 34 regions.
The developments of MZKT, OJSC for the Ministry of Defense of the Republic of Belarus attracted attention of customers from special (law enforcement agencies) and civilian consumers involved in security services. One of the brightest and most expected moments of the first day of the 10th Exhibition of International Armament and Military Equipment MILEX-2021 was the presentation of a unique Belarusian product: a BTR V-2. Those who took part in presentation of the BTR V-2 – Mr. Roman Golovchenko, the Prime Minister, Mr. Dmitry Pantus, the Chairman of the State Military and Industrial Committee, Mr. Alexander Volfovich, the Secretary of the Security Council, Mr. Dmitry Mezentsev, the Secretary of the Union State, Mr. Stanislav Zas, the Secretary General of the Collective Security Treaty Organization and representatives of the Ministry of Defense of the Republic of Belarus - inspect the vehicle and appreciated its ergonomics and equipment of troop compartment.
The 10th International Exhibition MILEX-2021 allowed MZKT to confirm their status as one of the world's leading manufacturers of special wheeled chassis and tractors and to create conditions for further development of international military and technical cooperation. As a result of the exhibition, MZKT, OJSC was awarded a memorable souvenir and became the owner of a Diploma for uniqueness of the exhibits presented.