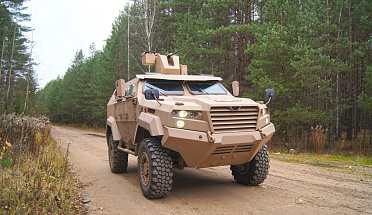 15.02.2021
MINSK WHEEL TRACTOR PLANT, OJSC (MWTP; VOLATTM) is the worldwide leader in manufacturing of heavy trucks, chassis, trailers and semitrailers for defense purposes, as well as tactical vehicles used for transportation of both personnel and cargo, and carrying special-purpose equipment, etc. 
VOLAT cooperation with the UAE started in 1993 with supply of vehicles for the UAE Armed Forces needs in partnership with AL BADIE TRADING EST. Since that time VOLAT and AL BADIE TRADING EST. have implemented lots of projects in the UAE market.
The most remarkable is project for supply of Heavy Equipment Transporters (HET) MZKT-74135+99942+83721 to the UAE Armed Forces. HET was designed to transport simultaneously up to 3 units of tracked/wheeled combat vehicles, or 20/40-foot containers of total weight up to 130 tons. First contract was successfully fulfilled in 2004-2005.
In 2014-2015 the subsequent repeated order was received from the Client for the newly modernized HET MZKT-741351+999421+837211. VOLAT introduced progressive modifications, installed a powerful CAT C18 engine, Allison transmission with electronic control, increased payload. All these enabled monster HET to masterfully perform the missions on transportation of the tracked vehicles in severest deserts, track and field and mountain roads. The new HET successfully passed the Summer Trials during the hottest period of 2016-2017, Serial units' supplies were completed in 2020.
This year VOLAT is exhibiting the entirely new 4x4 Light Armored Vehicle (LAV) MZKT-490101 at the joint VOLAT - AL BADIE TRADING EST. stand. This novelty represents a five-seat LAV designed for transportation and protection of its crew from the damage effects of small arms and explosive devices. Applied solutions provide optimal reliability and protection against threats in the warfare. Ergonomics, dynamics, safety ensure chassis operation in the severest conditions. 
LAV power pack consists of Doosan DL06 6-liter engine of 270hp and Allison 6- speed automatic transmission. The two-speed transfer case ADS is assembled into a single power unit with the power pack. Engine compartment is equipped with automatic fire extinguishing system. LAV MZKT-490101 has modular composition and 4-door body all-welded from armored steel. The demonstrated sample has a set of additional modular armor that enhances its ballistic protection up to the 2nd level under STANAG 4569; antimine protection - 2a/2b under STANAG 4569. The level of protection can be adjusted by removing/ mounting modular armor as per Client's request. 
The fleet of LAV MZKT-490100 family with different types of mounted equipment is extensively operated by the Ministry of Defense, Ministry of Internal Affairs and State Borders Authority of the Republic of Belarus. Being in service since 2016, LAV family proved its reliability and efficiency in crucial missions' performance within the local area. Today the advanced LAV MZKT-490101 of new generation is introduced to foreign markets.