"Zapad-2021": acquaintance of the head of state with V2 armored troop carrier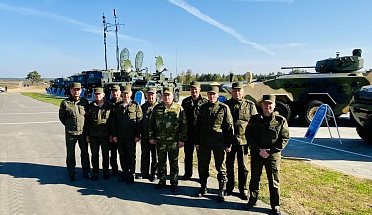 22.09.2021
From September 10 to September 16, 2021, demonstration of the actions of troops under command of the Chiefs of Defence of the armed forces of the Republic of Belarus and Russian Federation were held as part of "Zapad-2021" joint strategic exercise of the armed forces of Russia and Belarus.
One of the main demonstrations took place at Obuz-Lesnovsky combined-arms training ground near Baranovichi. The actions of military units were spectated by representatives of the military and diplomatic services from 18 countries accredited in Belarus, 7 of which are members of NATO and representatives of CSTO and SCO member states, delegations of CIS Executive Committee and CIS Defense Minister Council Secretariat, delegations of the International Committee of the Red Cross.At the demonstration site, a prototype of V2 (8x8) armored troop carrier by MZKT, was presented with ADUNOK-BM-30, the newest locally-developed remotely controlled firing module armed with 30-mm automatic cannon. Local development was highly appreciated by the Commander-in-Chief.
Due to its universal platform and carrying capacity, "Volat" BTR V2 armored troop carrier can become a platform for creating a variety of combat and auxiliary equipment, including self-propelled artillery systems or fire support vehicles.